Custom Mobile App Development
Reach your customers on their most preferred platforms.Hire us as your custom mobile app development, and accelerate your business growth by manifolds.
Mobile App Development Services Tailored for Your Business Needs
ITHorizon Solutions is a leading, innovative mobile app development company that makes your business tap away on iPhone and Android devices. We are a pioneer in mobile app development services that help you launch cutting-edge business applications. Carefully tailored to satisfy your end-users, we build seamless mobile apps that are intuitive and deliver high performance. Our engineers and architects fabricate your ideas into action-driven and consumer-satisfying mobile applications. Choose from mobile app development services that suit your needs.
Android app development
iOS app development
Windows app development
Our Custom Mobile App Development Services
Mobile applications have exponentially increased in all businesses regardless of their industries and sizes. Mobile apps have proved to be more powerful and efficient in terms of user engagement and revenue generation. We offer comprehensive mobile application development for your business to stand out in the present-day competition and overcome business challenges. Our elite mobile application developers are highly skilled and efficient in delivering your business application requirements and meeting your quality standards while adhering to the predefined timelines.
UI/UX Development
Native app development
Cross-platform app development
QA and testing services
AppStore optimization services
OUR APPROACH TO BUILDING MOBILE APPS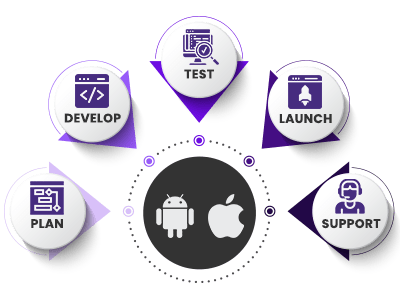 UI/ UX Development for Mobile Apps
At ITHorizon Solutions, we understand the value of offering the right experience to your target audience. We combine these critical insights with our technical expertise to help you launch mobile applications that resonate with your target audience. Our UI/ UX engineers combine pleasing aesthetics without compromising application quality to build apps that deliver seamless experiences across devices and platforms.
Native Android App Development
Our team holds in-depth knowledge of android app development and stays updated on the current market trends to keep you ahead of the competition. While our business consultants are by your side to guide you through the success roadmap, our development team helps you launch the right solutions that delivers results in the form of RoI. Equipped with access to an extensive range of technology, we create custom-built programs which are robust and scalable for any android device.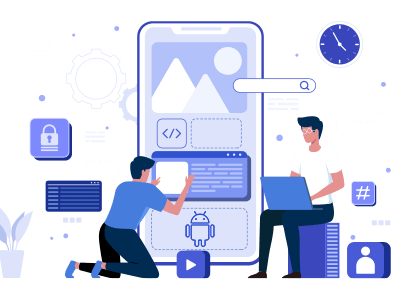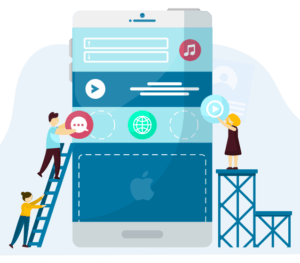 Native iOS Development Services
We are an expert iOS app development company offering excellent and dynamic iPhone applications. Our feature-enriched iOS apps. Our process of iOS mobile development is refined and efficient to result in user-friendly and aesthetically pleasant experiences for your end-users. It helps assure a successful business outcome for you.
Cross-platform App Development Services
Address your customer regardless of their device with cross-platform app development services. Our development team is well-acquainted with the latest cross-platform tools and technologies to help you reach a wider pool of customers with lesser investment.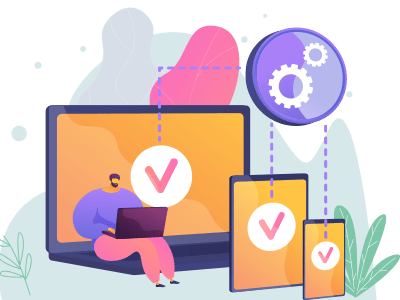 Hire Mobile App Developers
Are you looking to hire mobile app developers? ITHarizon Solutions can help. 
While hiring top-notch talent globally, we have built a team capable of investing time to understand your business needs and challenges. Our team works as an extension of your team, carefully helping you translate your business value into fully-functional mobile applications. Experienced in building mobile applications for businesses of various sizes across diverse industries, our developers are certified in their respective fields while ensuring regular compliance and upskill training. Choose from our range of hiring models, and get your team started as quickly as you want.
WHY CHOOSE ITHorizon Solutions FOR YOUR MOBILE APP DEVELOPMENT?
ITHorizon Solutions is an award-winning app development company with a strong presence in the USA and the Middle East. Our team of proficient mobile app developers holds profound exposure and experience gained through continuously working and delivering diverse mobile applications catering to the varied needs of different industries and markets. As a professional organization, we make it a point to consistently meet the industry benchmarks of quality by following the coding standards and the industry-defined protocols. Our rich UI/UX imparts seamless experiences to the end-users.
Decades of experience
Certified experts
Quicker turnaround time
Cost-effective pricing
Quality-focused agile methodology
ANDROID APP DEVELOPMENT SERVICE
Android is the fastest growing operating system for different mobile devices which has been famous for its every update. Its versatile and user pleasant programs, along with its exceptional flexibility have made it a favorite for many. Our team holds in-depth knowledge of android app development along with the most updated understanding of the latest Android releases helping us stand out.
ITHorizon Solutions as an android app development company is specialized in modern android app development trends that supplies professional android app development and improvement services. Our Android developer's team performs extensive research and evaluation of your idea to ensure that their application development justifies the feasibility of your plan in the business world. This helps our team deliver upon your expectations and satisfy your business needs with our technical prowess. Equipped with the access to an extensive range of gear and technology, we create custom-built programs which are robust and scalable for any android devices.
OUR ANDROID APP DEVELOPMENT PROCESS
Our team conceptualizes, outlines, creates, tests and delivers precisely in line with your request. By working with our Android team, you can anticipate,
Development of User-friendly Applications
Contemporary & Aesthetic UI/UX Designs
Precise and Easy-to-understand Features
High-Quality Development Process
Creative & Imaginative Designers
Research and Analysis of app requirements
In-depth Business Understanding of the App
Security of Data
iOS APPLICATION DEVELOPMENT SERVICE
Phone is a high-end mobile device of high quality, utilized by many mobile-phone lovers internationally. Its significant demand conveys a 'without delay' sign that your investment on developing a new iOS Mobile Application or improving the existing iOS mobile application for your busineswillto reward your business in ways you can not imagine.
ITHorizon Solutions is a superlative iOS app development company offering wonderful and dynamic iPhone application improvement services for businesses all over the world interested in meeting the requirements of the customers. We construct feature-enriched iOS apps that perform flawlessly and seamlessly. Our process is of iOS mobile development is refined and efficient to result in user-friendly and aesthetically pleasant experiences for your end-users. It helps to assure a successful and commercially successful business outcome for you.
OUR iOS APP DEVELOPMENT PROCESS
For each iOS app, our iOS developer's team follows the,
Defining the proper scope
Deep Understanding of the application
Following the code guidelines provided by Apple
Analysis of the requirements and Planning
Weekly demos to the customers
Best & Rich UI/UX
User friendly applications development