Avail Certified Public and Private Cloud solutions fully-managed with the added power of DevOps for supercharged growth
Integrated Managed IT Services
It's a no-brainer that any kind of organization requires efficiency to succeed. But in today's age of consumerism and instant gratification, it is imperative for businesses to be effective. The success of a business depends on its ability to utilize the trend of instant gratification. Today's customers expect to find a product, services or any information quickly and easily and only those businesses succeed who can cash in on this trend and deliver what customers want, without delay. Information technology can help organizations conduct their businesses effectively but since it is intricate and over-shadowed by arcane rules, it is often avoided by most industrialists. The best method to incorporate IT solutions in one's business is to find a suitable partner to help your business include the best of both worlds.
ITHorizon Solutions has been providing seamless, reliable, secure and cost-effective managed IT services to a wide range of customers across the world since 2003. With our wide expertise and customized service packages, we provide enterprise class experience while meeting your end-to-end business requirements.
Increased operational efficiency
Reduced operating costs
Cost-effective access to enterprise-level support
Minimized downtime
Focus on running the business, not the technology
 24/7/365 service monitoring and delivery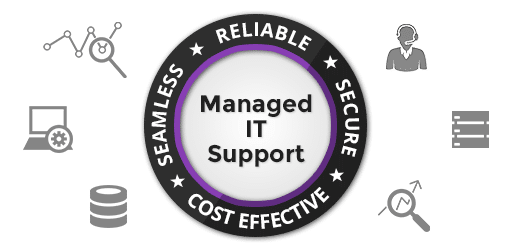 ITHoriozn Solutions workforce is driven by visionary technologists, certified operations engineers and technicians who are well versed with cutting-edge technologies and equipped with the right tools that encompass today's technology landscape.
Our primary focus is customer satisfaction
Ensuring support at every stage of operation
Swift escalation procedure
Round-the-clock surveillance across service lines
Continuous documentation and knowledge management
Quick adoption of best practices in the IT industry
Technology partnership engagements
Efficient, speedy delivery of business solutions require a robust IT infrastructure that is modern, reliable and fast. Our skilled technicians ensures the continual, always on environment of your organization. This includes work stations, PDAs, storage and network. For a wide range of on-premise or remote support for your operating systems, applications etc. and also managing IT infrastructure, monitoring,  security audits and compliance solutions, do get in touch with us today!
24×7 Dedicated Monitoring
Our dedicated team ensures that the business uptime is upheld across all business ecosystems. Services are level differentiated as level 1, level 2 and Level 3 support depending on escalations and seriousness of events.
Performance Monitoring
Cost, utilization and returns are rationalized according to the business goals and requirements. Organizations can profit through reduced cost spending on infrastructure.
Backup Management
ITHorizon Solutions Server Management Service team is particular about periodic backups of business-critical information and also strives to improve the effectiveness of storage systems and end-user efficiency.
Disaster Recovery
Our solid disaster recovery system means one thing for you and that is- Business continuity. ITHorizon Solutions guarantees dependable and fail-over environments that are maintained 24×7.
Security
Bugs in software, data breaches etc. can cause major issues. Likelihood of DDoS attacks, man-in-the-middle attacks or a hack can be decreased but not eliminated completely. Our administrators constantly look out for all options to decrease the possibility of a security breach.
Your mission critical applications and tools need expert and vigilant eyes monitoring your hosted infrastructure 24/7/365. Our team of datacenter technicians use automation tools and rigorous SLA driven incident management strategies. We remotely manage your applications and collaborate effectively with your in-house or datacenter staff.
One of the most significant offering we provide is Server Setup and Support. ITHorizon Solutions technicians are experts in setting up new servers and adding a whole lot more roles and services on existing servers. As part of the support plan, our Server Management team manages all of your servers, not just the ones we installed.
ITHorizon Solutions highly efficient team can work with you through the whole server life cycle, i.e. from initial server setup, employing security hardening to scheduled maintenance and optimization.
We specialize in standard setups such as –
cPanel (CentOS), CloudLinux, Plex, SolusVM
ISPManager Pro (Debian, CentOS)
Virtualmin/Webmin (Debian, Ubuntu, CentOS, etc)
Other LAMP variants & control panels (DirectAdmin, Lighttpd, etc)
Single site NGINX + PHP-FPM + MySQL (Debian, CentOS, Ubuntu)
The Server Management Services delivered by our company ensures that your server remains available to your customers all the time. Some of the plans we have in place are-
Application Server Management
Application Server Management is tailor-made for those customers who possess a customized control panel or servers without control panel. Be it Windows/Linux hosting, Debian, Ubuntu, FreeBSD or an Application Server. Our experts are ready to handle your servers 24×7 at reasonable prices!
Linux Server Management
Linux Server Management offers you services of our certified system admins to fix issues related with different flavors of Linux operating systems, wide range of opensource tools and services.
Windows Server Management
Windows Server Management offers you services of our certified windows system admins to fix issues related with IIS, PHP, MS SQL and ASP based sites.
ITHorizon Soluions best practices guarantees that your cloud investment keeps functioning effortlessly and continuously improve to generate the highest possible return. ITHorizon Solutions  Cloud Administration Services are conceived to greatly enhance daily operations and support by maximizing quality and efficiency. These services can also minimize down-time linked with unmanaged/unplanned adjustments.
Our Cloud Administration Services include
Server provisioning
Application installation and support
Snapshot backups
Database administration and performance tuning
Patch/software upgrades and management
Firewall management
Application management
Cloud Management
Disaster recovery solutions
High availability management
The security of your company is reliant on dependable and a befitting security architecture. With the right consultancy from our team of Infrastructure Security experts, you will be able to address and understand your security requirements, budget accordingly and have professional assistance during the implementation of your chosen solution. Carmatec's IT Infrastructure Security service offerings are-
Server Hardening
Server Hardening is the process of improving server security by means of improvements such as firewalls, data encryption, using network ports intelligently, maintaining backups, etc.
Windows Server Hardening
Installing patches as needed – we do this on a regular basis.
Disabling unwanted services.
Initial hardening of the operating system.
Allowing only select IPs access to Remote Desktop / Windows Terminal Server.
Disabling storage of insecure version of passwords.
Recommended Registry key configuration to thwart DoS attacks.
Using Windows Group Policies to stop known Worms and Trojans from running.
Removing unnecessary applications.
Installing firewall.
Configure strict metrics for password aging, etc.
Regular log analysis for proactive maintenance.
Linux Server Hardening
    Installing patches as necessary- We do this on a regular basis.
    Initial hardening of the operating system.
    Removing regular user and world access from c compilers.
    Securing host.conf.
    Installing chkrootkit and set up in cron.
    Installing root kit hunter and set up in cron.
    Installing rootcheck and set up in cron.
    Installing logwatch.
    Disabling direct root login.
    Allowing certain IPs access to SSH.
    Installing a firewall.
    Recreating the /tmp directory on its own partition.
    Securing shared memory.
    Removing unnecessary packages.
    Turning off server signatures.
    Regular log analysis for proactive maintenance.
PCI DSS Compliance
We deliver a full range of PCI services, from web-based portals featuring on-line PCI self assessment questionnaires and vulnerability scanning services, to technical audits and full penetration tests.
Kernel Hardening
We provide Kernel Hardening/recompilation/applying grsec patch for better security. This includes- Openwall, LIDS, LoMaC, NSA Security Enhanced Linux, etc for increased security.
Our other services under IT Infrastructure Security include-
Application Server Security Hardening
Web Server Hardening
Database Hardening